Tim's Car Biography
I was reminiscing about the cars that I have owned over the years last night, and decided that it would be fun to create a biography of cars that I have had.
My First Car - The 1967 Mercury Park Lane
Price: FREE
Drove: Age 15-17
R.I.P.: Sold to salvage for $50
Home: Las Vegas, NV
You always remember your FIRST car... mine was a hand-me-down from my mother... her '67 Park Lane. This car was a BEAST... a TANK... a BOAT! Big and green like the Hulk. The hood was about 4 foot in length, as well as the trunk. You could easily fit 4 to 6 people in the trunk... great for sneaking people into drive-ins. :)
This hoss had an enormous engine... the Mercury 410 Intercept. It was fast! It got it's police intercept rating from it's high compression ratio, 13:1 (most cars are 6-9:1). It also really pumped gas into it... it had a Holly 650 4-barrel dual-pump carb. It basically poured gas into the engine :). If I didn't use high-octane gasoline the engine would really pop... so high-grade leaded gas it was!
I think that when this car was made it was a very high end luxury car... it had everything... 4 power windows, wing-wings, bench seats with 6 way power, power steering, power brakes, pleather interior, and air conditioning. Doesn't seem like much to today's standards, but I have never seen another car that old that had all of those amenities.
Anyway, by the time I got it, it wasn't a luxury car anymore (UNDERSTATEMENT!). The once emerald green paint was now puke green, mixed with a few spots of red oxidation. It also had a white film on it that wouldn't rinse off... oxidation I guess. All four corners were dented... some worse than others but all four had some type of damage (none of which were inflicted during my ownership of the car!). The padded vinyl top was gone. Just remnants of glue that once held it on and a few spots of "fuzz". Also... the most annoying thing was the headliner was sagging. I got pissed one day from it falling on my head all of the time and just ripped it all out.
I would take this car everywhere... I used to take it out to the desert and lake Mead and use it as if it were a 4x4. Me and a bunch of friends would pile in, throw some wood pallets into the trunk and find some secluded spot to have a bonfire party. I think I took it some places that were never seen by man before ;)
And the speed was unbelievable! This 2 ton machine would get up and go! I gave many a person a headache by whipping their head back against the rear deck. It did great both from the line and once you got really movin'. During normal use, the Holly carb would only use two barrels, but when you hit 60-80 MPH with the pedal down, the 2 additional barrels would open up. The engine would suddenly go quiet, and the car felt like you were off of the ground. It was a real surreal feeling... most car engines would be roaring loudly... but for some reason at high speeds this one would get silent. The speedometer went up to 120MPH... it would stop then. I think I got it up to about 140. This was definitely the fastest car that I ever owned.
I was well known for racing this car with newer cars notorious for speed, Mustangs, Camaros, etc. I stumped quite a few people with my Hooptie.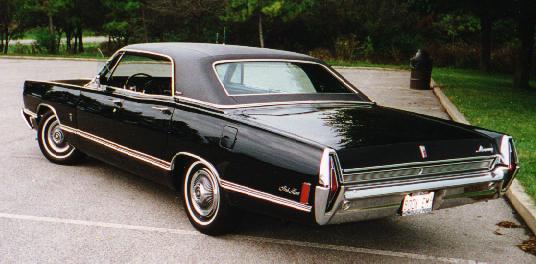 While looking for photos of this car on the net... I found out that the Park Lane was the car used by Steve McGarrett on Hawaii Five O. Click here to read a story about a guy who actually found and restored the Mercury used on the show!

The car finally gave up after the water pump failed. I also failed to stop it immediately… I drove it home to fix it there… by that time it was too late. The damage to the engine was too great, and in 1988 the parts for it were getting hard to come by for the 22 year old car. I called a wrecker; they picked it up, and gave me $50 for it.

1974 Mercury Comet

Price: $500
Drove: Age 18
R.I.P.: Sold to co-worker for $300
Home: Las Vegas, NV

My dad is a mechanic. He came across this car from an old lady who only drove it on Sundays. (Doesn't that sound SO cheesy!) It was 1989 and this car only had 30,000 miles on it. It was a little white four door Comet. The Comet looks just like the Ford Maverick… so definitely not a hip car… but it got you from A to B.

I don't have too many memories of this car. I threw in a swap meet stereo system with Pyramid Phase III 15" subwoofers in the truck. It was loud, but not good sounding at all. The whole car rattled. Oh well… I was poor! It had a strange problem when the automatic transmission was cold, it wouldn't go into any gears until it warmed up. I would be revving the engine in the early morning just to get it warm enough to go to school. I later found out that all it needed was the transmission filter and fluid changed.

I sold this car for $300 to a guy that I worked with at the movie theatre. I was going to basic training for the Army and just wanted to get rid of it quick. I took the $300 and took a few friends out on a limo ride for a few hours all around Vegas and the Strip. I found out later that my dad was pretty pissed that I sold it for so cheap… he would have paid more for it he said. Oh well, chalk one up for experience!

1984 Dodge Daytona

Price: $5,500
Drove: Age 20-21
R.I.P.: Left on the side of the road
Home: Wahiawa, HI

This was my first car that I paid for myself… I bought it from an individual on Oahu while stationed at Schofield Barracks. I did not have a car during basic training and AIT, so I was happy to be on the road again! I paid the guy $2,500 up front and paid the rest over another year.

This was a fun little car! First of all, it was my first car that wasn't older than me! I thought I was really up-town

J. It was also my first stick shift. I took it to the beach and Waikiki a lot. It held me and my roommate's surf boards perfectly while hanging out the back end of the hatchback.

The black paint was fading on it… so I wanted to get a custom paint job on it. I found a guy that did some other cars that looked really good from some of the local car stereo clubs. I designed a purple fade from the bottom into black, with a neon blue heartbeat across the side. It was very 80's! What can I say… I'm pure MTV and Gen-X all in one. Any way, the guy screwed the paint job up… I ended up suing him in small claims and won!

I had a really nice system in this car… Alpine deck, MB Quart highs, Orion DVC 12" subs, audio control signal processors, and Orion HCCA high current amps.

The car stopped one day in Pearl City. At first it could still go in reverse… I drove the thing in reverse trying to get to a Dodge repair shop that I knew of. But after about two miles, reverse stopped working too. It felt like all of the gears in the transmission just fell to the bottom. I kicked the thing and cussed it out, and then abandoned it right where it stopped. I walked a half a block down the road to the Dodge dealership.

I had that Easy E / NWA song in my head… "Cruisin' down the street in my '64" (I sang 8-4) "… blah blah blah wrapped it 'round a telephone pole, threw it in the gutter, I'll go buy anudah!"

1991 Dodge Daytona Shelby

Price: $10,500
Drove: Age 21-26
R.I.P.: Totaled by a Kia
Home: Wahiawa, HI; Las Vegas, NV; Ft. Bragg, NC; Tulsa, OK

So… I just abandoned my Daytona down the street… I walked into the dealership ready to buy. I looked around at all the used cars and saw nothing that I liked and could afford. A bunch of Escorts and Shadows and crap like that. I already missed my sporty hatchback!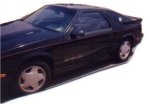 I was ready to leave the dealership when I saw her… she was gorgeous! It was an all black Dayona Shelby that had just been traded in and was still in the back lot. The paint was a deep black with what seemed like 50 clear coats of shine on it. It had everything… ground effects, power everything, and the Shelby model was the top of the line for Daytonas… it had a turbo powered 2.5L 4 cylinder.
I signed the papers and was on my way! I got on their "first time buyer" program (A.K.A. "screw the kid") at 21.9% interest. I'm not stupid, I just knew with no credit and being 19… that was the best that I could do.
My first investment was to install my dream system in it. FYI, there are radios, stereos, and systems. Radios are the stock AMFM/Cassette players that the manufacturer installs. Stereos consist of an aftermarket CD player and maybe replace the stock speakers. SYSTEMS are so much more!

I used this car to compete in IASCA car stereo contests. I competed in the 0-150 watt class… I loaded my high-current amps to half an ohm. Most amplifiers cannot be loaded this low, but 1 50 watt Orion HCCA amp cost about $800. Very high quality stuff.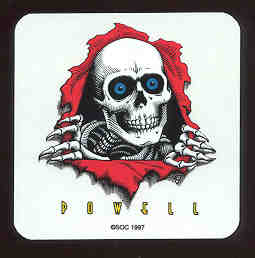 I got personalized plates in Hawaii… since I was military my tags were only $.50… yep… 50 cents! So I spent the extra $20 and got "RIPPER". Ripper is the name of the skull created by Powell & Peralta skateboards… also sometimes referred to as Bones. This image was on the bottom of my skateboard as a teen, and I was always impressed with it. Since the skateboard was my primary mode of transportation prior to getting my drivers license… I found it a fitting name!
I had to leave Hawaii when I got new orders to go to Ft. Bragg, NC. That sucked! Ft. Bragg is well known for being the "Grunt" capital of the world. It's the home of the hardcore 82nd Airborne. I was livin' it up in Hawaii in my Military Intelligence brigade and surfin on the weekends. I did not want this… but, you know that once you're in the military you are owned by Uncle Sam.
The Army shipped my Shelby to the mainland for free. I flew in to L.A., and picked up my car on Compton. I drove the car across America via I-40. It was fun. I had about 150 CD's to listen to!
I was stationed at Ft. Bragg until I left the Army. I drove it everywhere. I also kept my Hawaii plates. Yes, they were expired, but I figured the cops didn't know the color of the year stickers for Hawaii. It worked pretty well!
After the Army, I moved back to Vegas for about 8 months, and then to Tulsa. I've made the I-40 trip across America about 5 times. I drove the car with the 1992 plates until about 1996… when I finally got a ticket in Tulsa for expired plates. The ticket was only $20 once I got current plates… so it was a good amount of savings for those years!
I finally paid off the car while in Tulsa! Just 3 months later the transmission and timing belt all went KAPUT, and that cost about $900. Owning a car sucks.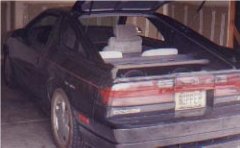 The old Rippermobile was showing it's age. It had about 80K miles on it, and the once shiny black paint started to look more like charcoal. But I didn't care… I didn't want payments anymore and I was going to drive this car into the ground.
BLAM! I didn't get my chance to see Ripper get old because some moron in a little white Kia decided to use the shoulder lane as an 80MPH passing lane during the Chrismas traffic jams. He took the front end completely off. I got to see (and smell) what an airbag looks like! (I always think of the Chia-Pet song when I hear Kia… "Ka-Ka-Ka-Kia ")
So, the insurance company called the car totaled (I woulda fixed my baby!) and paid me $5,000 for it. That's O.K. too.
1997 Honda Civic EX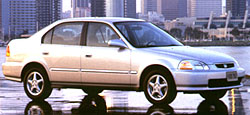 Price: $18,500
Drove: Age 26-27
R.I.P.: Traded-In
Home: Tulsa, OK
My first brand new car. I got this puppy on a 2 year balloon payment lease like deal.
BTW… I'm married now… and my wife never complained about Ripper but I don't think she liked it very much either. It had the really big doors that most hatchback sports cars do, and it was not fingernail friendly. Anyway… Ashley liked Hondas. I never though of NOT buying American… I mean… that's what we're told to do right… BUY AMERICAN. I didn't want a jap-mobile!

But… being the devoted husband that I am… I surprised her one day by driving up in a cute little 4 door Vogue Silver Civic. It reminded us of Nermal… the so-cute-he-makes-you-sick kitten from the Garfield cartoons. Viola… we named the car Nermal.
I must admit… this was the easiest to drive, most care-free vehicle I have ever owned. It is nimble, speedy, and light at the pump. $10 filled up the tank! And it was really stylish… it's large shiny headlights and shiny silver paint job made it look much more expensive than it was… like a Lexus. (to me at least)
I completely changed my car-care habits with this vehicle. No smoking (I don't smoke) or eating in the car. Sometimes the no eating was a hassle, but not too bad. I would just eat inside at the burger joints or leave it in the bag until I got home. And I never left garbage in it… I made it a habit to always throw out any trash each time I got home.
I was happy with the car… but the two years came quickly and I enjoyed having a new car so much, I decided to never own a car for long periods of time like I used to. I figure… it's not worth it. I simply pay my monthly payment, and throw gas and oil in it. Why wait until you have problems?
1999 Honda Accord EX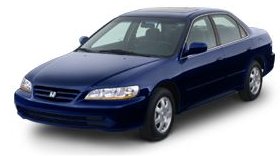 Price: $22,500
Drove: Age 28-Now
R.I.P.:
Home: Tulsa, OK
I loved my first Honda so much I decided to stick with the company! Ever heard of the cheesy acronym Happy Owners Never Drive Another? Well… it's true.
I found a Mystic Pearl Blue (dark blue) Accord EX that was loaded. Leather, CD player, gold package, wood grain interior… the works! I wasn't feeling as poor as when I grew up J
I did have some trouble with the finance manager at the Honda dealership. It was at Joe Marina Honda in Tulsa, OK. (I worded it that way so search engines could find it!) This guy was a total sleeze-bag. He tried to tack on all this extra crap that I didn't want… life insurance, extended warranty, extended paint warranty. I didn't ask for any of this and he tried to sneak it past me on the purchase agreement. When I told him to remove the extra items he tried to tell me that he couldn't because they had given me such a good price on the car. What bullshit! Anyway… JOE MARINA HONDA SUCKS!!! I will never buy another car from them again.
We looked at the blue Honda and tried to name it. We thought of the Smurfs of course! But the car seemed too elegant to call it a Smurf. Ashley and I ended up taking the S off… murf, and then eventually to Murphy. That was a perfect name for it. Kinda reminded me of Murphy Brown. I sometimes call it "Evil Murphy" because of the shitty finance fiasco at Joe Marina.
I'm really happy with the reliability of this Honda too. I turn the key… it runs. Simple. ( I think that was a Honda slogan?! )
1999 Ford Mustang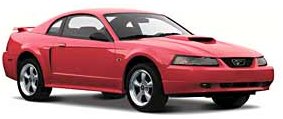 Price: $16,500
Drove: Age 28-Now
R.I.P.:
Home: Tulsa, OK
This is actually my wife's car… but I drive it sometimes too! J
I bought this car used with 7,000 miles on it. It is a gorgeous crimson red with a gray cloth interior. This is one sexy car. It's the 35th anniversary edition of the Mustang. I bought it on my birthday for my wife.
It's not the GT. I bought it for the looks… and Ashley told me that she always wanted a Mustang. All that the 8 cylinder GT is going to do is raise it's insurance rates and possibly get Ashley killed. I think I'll get her a Volvo next time to keep her safe! LOL.
We've named this one Annie… yes, the red haired orphan.
The Future…
Who knows what the future will bring… but I'm glad that I took the time to document my cars that I've owned over the years. They all have fun stories and memories associated with them. I really do think that you can tell a persons' personality from their car. It even shows how we grow and change over the years.